TWO GOOD ASIAN GIRLS GONE BADASS.

Thoroughly modern, urban, sexy sounds from the very fresh, street infused Asian-American duo that always causes a stir...You've never seen anything quite like it--part hip hop, part rock, part electroclash, from two rock n roll asian chicks. Slanty Eyed Mama sees the world through the searing electric violin and beats of virtuoso Lyris Hung and the iconoclastic rants from Kate Rigg, aka. Lady K-Sian. Kate is also a Juilliard trained actor/playwright and a well known comedian, who has been on Fox's Family Guy, 2 seasons of the Dr. Phil show where she talked about the Asian American Experience to 5 million people, and has toured extensively as a stand up comic. Electric violinist Lyris Hung is also a Juilliard graduate who also has a metal band called HUNG, tours with The Indigo Girls and has played with Jay Z, Bono, Quincy Jones, and many others.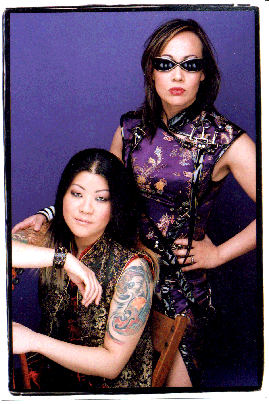 It's bold. It's wild. It's funny and cool. With a solid backbone of musicality and lyricism that is unparalleled in the spoken word/electronic world.

Exotic, fierce, Slanty Eyed Mama has gotten rave reviews from high profile gigs as artists in residence at the Smithsonian Institute, the Perth International Festival, LA Grand Performances, appearances on PBS, Sex-TV, LOGO, City TV, Girlfest Hawaii, The Michigan Womyn's Music Festival, countless colleges, many outdoor festivals, and anywhere audiences are searching for something they've never heard before.
Kate and Lyris met while studying at the Juilliard School and began collaborating on creating a new Amerasian sound through trip hop, spoken word, rock and the inclusion of 'cyber butoh' (Japanese modern dancer Sato) at live performances.

Slanty Eyed Mama quickly gained a National following headlining the 2004 Asian Pacific Islander Fest in NYC, the 2005 PBS special 'Race is the Place', and National Conferences of Asian American Students at colleges across the country (ECAASU, NAASC). They are favorites at new music conferences (Toronto, Vancouver, Chicago), alternative music fests and benefits (Pridefest, LA Grand Performances), women's music festivals (Michigan, Girlfest Hawaii) and alt-culture venues like the Chicago Museum of Modern Art and The Perth International Art Festival. The sound is a street infused mix of hip hop, electroclash, spoken word, and pop rock, influenced by artists like Laurie Anderson, David Byrne and The Roots.

Spearheading a movement to bring a new brand of pop culture to the main stream, Slanty Eyed Mama combines a hip urban sound with lyrics and rhymes that reflect America from Generasian-Next.
For booking inquiries, please
Contact Us
For press materials, please go to 
Press
The Smithsonian Institute (2 times as Artists-in-Residence)

The Comedy Central Theater, Los Angeles
Edinburgh International Fringe Festival
New York International Fringe Festival
Festival Phenomena Montreal
LA Grand Performances (2 times)
We're Funny That Way Festival Toronto
PBS Television, SEX TV, CBC TV, LOGO TV, Pacific Time TV
The Perth International Festival
The Vancouver International Comedy Festival
The Asian Heritage Month NYC Festival
Asian Heritage Festival San Francisco
The Michigan Women's Music Festival (2007-2014)
Pride Fest New York
Nuyorican Poets Cafe, New York
Bowery Poetry Club, New York
Joe's Pub, New York
Brooklyn Academy of Music
Pridefest NYC
The Black and Blue Ball NYC
Women In Performance Festival
Dragon's Roar Festival, Los Angeles

Colleges and universities:
Harvard, Penn State, De Paul Univ., Columbia Univ., Univ. of Washington St. Louis, Smith College, Mt. Holyoke College, Wellesley College, Cal State Pomona, Skidmore, UNC Asheville, NYU, UPenn, UMass, Cal State L.A., Sarah Lawrence, Rutgers, and many more.